"Your Partner In Transportation"
Hours of Operation Mon to Fri - 8:00AM to 5:00PM
Jeff Robertson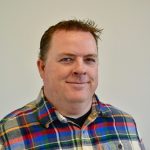 Jeff Robertson is OPTVIA's main warehouse employee. Jeff's duties centre around doing whatever it takes to
keep the warehouse running smoothly. Jeff is now starting his third year with the company. He is a licensed lift
truck operator and is responsible for inventory and FIFO control. Jeff was born and raised in the
Rockwood/Guelph area. He attended John F. Ross High School. Jeff enjoys being an essential part of the fast
moving environment at OPTVIA.
Favorite Sports Team: The Denver Broncos.
Favorite TV Show: "Game of Thrones".
Favorite Song: "Fix You" – Cold Play.
Favourite Food: Chicken wings.
Hobbies/Past Times: Travelling and spending time at the cottage.
Favorite Quote: "Every man is alive; but not every man truly lives" – Unknown.