"Your Partner In Transportation"
Hours of Operation Mon to Fri - 8:00AM to 5:00PM
Jeremy Hamilton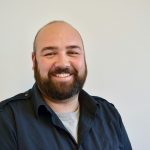 Jeremy Hamilton is OPTVIA's Director of Operations and has also taken the helm of the companies Freight
division.   Jeremy was born and raised in the Rockwood /Guelph area with several yearlong moves to the
Northwest Territories as a child.  He attended John F. Ross High School. Jeremy brings some notable
transportation credentials that included an unspoiled 17 year AZ driving record.  Jeremy takes pride in his work
whether he is assisting a co-worker, greeting a driver at a dock door or brainstorming the company's strengths.
Jeremy enjoys working at OPTVIA because of the diversity of every day and the challenges that come with an always changing
environment.
Favorite Sports Team: Toronto Blue Jays.
Favorite TV Show: Anything on The Discovery Channel or HGTV.
Favorite Song: "Free" – Zac Brown Band.
Favourite Food: Pizza and Caesar salad.
Hobbies/Past Times: Diesel trucks and woodworking.
Favorite Quote: "People who think they know everything are a great annoyance to those of us who do". – Isaac Asimov.
Contact Jeremy if you or someone you know is looking for a warehouse or AZ
office at 519-823-7860 and toll free at 1-888-463-0233.